Browsing articles in "Uncategorized"
New Site (with temporary address – it's complicated…):
https://dan.basicbruegel.com/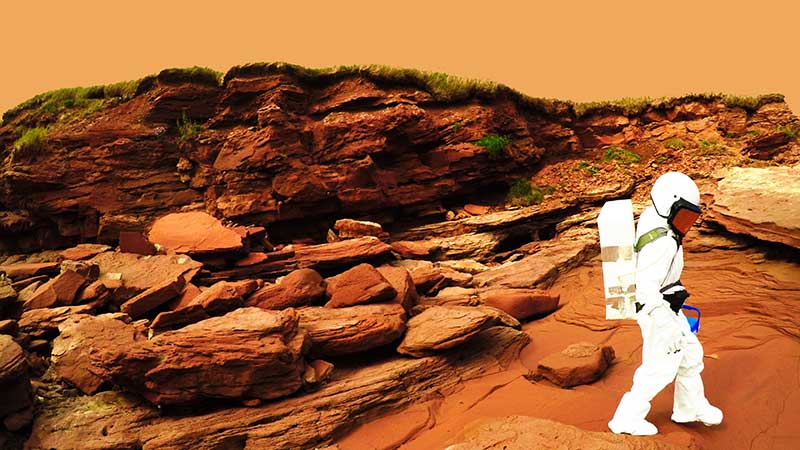 Fundy
A projet by Valerie LeBlanc and Daniel H. Dugas
Learning that July 2019 marks the 50th anniversary of the Apollo 11 moon landing and the famous quote: " … one small step for a man, one giant leap for mankind," we decided to combine our own voyages to capture the spirit of places in and surrounding the Fundy biosphere with this out-of-world historic event.
We set out to explore a wide range of sites within and surrounding the Fundy Biosphere. Our attention was drawn in many directions throughout this multi-season project. Visiting sites in both New Brunswick and Nova Scotia, we began to focus on the various sedimentary rock formations surrounding the Bay. We began to perceive sites with red rock as Martianesque landscapes.
As the project developed, we decided to incorporate the idea of astronaut explorers making observations at specific sites. In essence, Fundy is a project with a focus on nature and human intervention into natural settings. Through it, we have examined boundaries designated by humans and the natural flow moving back and forth through tides, winds, and winged migrations. Through this close-up look at the Fundy biosphere, we observed many of the cycles that are endlessly repeated through time and seasons. Overall, Fundy comments on the value of our planetary home.
The completed project contains 15 short videos. Some photographs have been posted on the website and other composite photographs have been set aside for exhibition during screenings/gallery installations. The videos are currently password protected (to the public) while we apply to screen/exhibit the works.
WEBSITE: http://fundy.basicbruegel.com/
We acknowledge the support of Artsnb.
Nous remercions Artsnb de son soutien.
Les Éditions Prise de parole vous invitent à célébrer la parution de Problème trente, de Thierry Dimanche, et d'Everglades, de Daniel H. Dugas et Valerie LeBlanc.
Le lancement suivra le spectacle Sols et sous-sols, qui réunira musique contemporaine, poésie et arts visuels. En deux parties, le spectacle donnera à voir et à entendre des prestations des auteurs, du concepteur visuel Patrick Harrop, du compositeur Robert Lemay et du quatuor de saxophones Proteus. Plus de détails ici.
(Une présentation des Concerts de musique contemporaine 5-Penny.)
Le samedi 17 mars, au Théâtre du Nouvel-Ontario.
19 h 30 – Sols et sous-sols

21 h – Lancement
Les billets du spectacle (23$ pour les adultes et 17$ pour les étudiants) sont en vente à la billetterie du TNO.
Entrée libre au lancement.
AIRIE Panel at Miami Book Fair International Highlights the Value of the Everglades
By Abel Folgar
Published Mon., Nov. 17 2014 at 8:05 AM

Courtesy of AIRIE LeBlanc and Dugas
For the last 14 years, the Artists in Residence in Everglades (AIRIE) has strengthened the bonds between science and art as a means of creating awareness and insuring the survival of the Everglades — a unique and delicate ecosystem that is unique and should be of utmost concern for all Floridians. Over the years, AIRIE has faced the same problems that routinely plague nonprofits but has continued to attract cutting-edge, contemporary artists to "mingle" with the Park's scientific staff and create new works based solely on their experience in the residency.
Artist and Executive Director of AIRIE Deborah Mitchell will moderate a panel — Science + Art: Transformative Experiences in the Everglades — with an introduction by retired biologist Skip Snow, composed of the latest batch of artists who took up home in our beloved "swamp." This diverse and multi-disciplined group of artists include Gustavo Matamoros, Valerie LeBlanc, Daniel Dugas, McCrary Sullivan and Van Brunschot regarding their work within the fragile ecosystem. Local historian Dr. Paul George will review the historical aspects of the Everglades.
We had a chance to speak with Mitchell about the program, its vision and what the future holds for the science and arts partnership in the Everglades.
See also: The Ten Best Things to Do at Miami Book Fair International 

Courtesy of Deborah Mitchell
New Times: The Everglades are a unique ecosystem, the only one of its kind in the world. Why do you think it's the immediate neighbors who are the most ignorant on its significance and importance to the well-being of Florida's ecology?
Deborah Mitchell: The health and well-being of Florida's ecology lies in the abundance of fresh, clean water. This complex issue often eludes the interest of the general public for many reasons, due largely to the misunderstanding of critical issues. Policy and legislation on the restoration is often challenging to comprehend, and on a more basic level most people don't know much about the Biscayne Aquifer.
Think about the significance of our consumption in terms of drinking water, agriculture, tourism, and commercial fishing. It is almost impossible to measure the economic benefits of how we manage this critical resource.
What has been AIRIE's biggest concern since its founding?
A huge challenge for AIRIE during 14 years of operation has been funding, as is the case with most nonprofits. Our budget operates in large part due to generous support from the John S. and James L. Knight Foundation, Tauk-Romano Innovative Philanthropy, community grants, and small, grass- roots fundraisers. The Board of Directors has recently expanded to include a high caliber of individuals, whose professional experience and visionary ideas will push the program forward. We have really rolled up our sleeves to increase exposure, hoping an endowment will assist us with maintaining a steady operating budget to fund our next set of goals.
You participated in an Artist-in-Residence program at Big Cypress back in 2007, what experiences there were you able to translate into working in the Everglades environment?
AIRIE is unique in that it has always been operated by artists; first by Donna Marxer in 2001, then by Christy Gast in 2009. We understand the needs of highly creative people and try to anticipate their needs, such as pre-arranging visits to the South Florida Collections Management Center for in-depth research. My experiences in Big Cypress continue to be intensely rewarding. Every summer I still venture out looking for ghost orchids with my friends and hike with my family in the winter. It is an honor to take AIRIE artists out in the field to meet with the locals, hike in the backcountry or kayak the Turner River in Big Cypress.
After all, the concerns of the Preserve and the Park are both centered around the flow of clean water from Lake Okeechobee southwards for our growing urban population. It is through cultural outreach events and programming that we expose the public to the interpretations of artists who have had the privilege of immersion in this subtropical wilderness. This will lead to a greater understanding of how vital it is to protect and preserve our precious natural resources.

Courtesy of AIRIE/Reed Van Brunschot
What has been the biggest impact of the program on the park?
In recent decades, artists have utilized the latest advances in science. The immense popularity of the new book Colliding Worlds, How Cutting Edge Science is Redefining Contemporary Art by Arthur Miller, proves that there is growing interest in the connection between the two fields. Enrollment in STEAM-related classes has increased, too. On March 4 at the University of Miami CAS Gallery, select AIRIE fellows will (together with local artists and scientists) lead a workshop and exhibition entitled AnthropoScene: Art and Nature in a Manufactured Era. When these types of partnerships emerge within our community, increased attendance and awareness of environmental issues impact the Park in a positive manner.

What type of artist is attracted to work in the Everglades and what can the park give said artist in return?
AIRIE receives applications from artists working in all disciplines who are seeking time to work unfettered by the demands of today's fast paced world. The allure of the Everglades attracts artists who recognize this unique biosphere as a place so awe inspiring that it creates a stillness within. By achieving this personal transformation, an artist becomes free to process the experience and create new work in the AIRIELAB, our live/work space provided by the Park. The Park makes introductions between AIRIE Fellows and Park staff, assists with events, provides gear like bikes/kayaks, gets artists into the back country by letting them shadow scientists, and advises on the application proposals.

What can be expected from the panelists and how their diverse mediums have been affected by the park?
The Swamp panelists will be discussing how science and art can inspire transformative experiences in the wilderness. The diversity of mediums represented will ensure that there is something valuable for everyone's tastes. We are absolutely thrilled to debut videos of Canadian team Daniel Dugas and Valerie LeBlanc entitled FLOW – BIG WATERS. In July 2014, this talented Canadian team worked in collaboration on the project in the Park recording and researching several aspects of this special biosphere. They are currently producing soundwalks to be made accessible to Park visitors online next year. Reed Van Brunschot, Gustavo Matamoros, and Anne McCrary Sullivan will also present and discuss their dynamic new work.

Overall, what do you want folks who learn about the program to come away with and what is the next step for AIRIE?
We hope to inspire people to get out and explore our wild peninsula, meet the artists, and think about how our short and long-term actions will affect the future generations. AIRIE is ready to increase its visibility and expand to a very strong and healthy organization. Come out and meet us at AIRIE in the Garden on January 24 from 2 to 5 p.m. at Pinecrest Gardens for our annual benefit! We will have live performances and readings featuring several artists from the 2014-15 program.
An Evening with AIRIE (Artists in Residence in Everglades) at Miami Book Fair International on Tuesday, November 18, at 7 p.m. at the Swamp Pavilion. Look for the big tent at the southeast corner of NE Third Street and Second Avenue. Call 305-237-3258 or visit miamibookfair.com.
Follow Cultist on Facebook and Twitter @CultistMiami.
Miami New Times : AIRIE Panel at Miami Book Fair International Highlights the Value of the Everglades
I have 3 beautiful light boxes for sale that I made in 1999 with antique flash glass. Dimensions: 20″ H X 7″ W X 4.5″ D. The boxes can hang on the wall. If anyone is interested please send me an email.
J'ai 3 boîtes lumineuses à vendre, faites en 1999 avec du verre ancien 'flash glass'. Dimensions: 20″ H X 7″ L X 4.5″ P.  Les boîtes peuvent s'accrocher au mur. Pour plus de détails, envoyez-moi un courriel.
Daniel H. Dugas
Artiste numérique, poète et musicien, Daniel H. Dugas a participé à des expositions individuelles et de groupe ainsi qu'à plusieurs festivals et événements de poésie en Amérique du Nord, en Europe, au Mexique et en Australie. Son treizième recueil de poésie « émoji, etc. » / « emoji, etc. » vient de paraître aux Éditions Basic Bruegel.
Daniel H. Dugas is a poet, musician, and videographer. He has participated in solo and group exhibitions as well as festivals and literary events in North America, Europe, Mexico, and Australia. His thirteenth book of poetry, 'émoji, etc.' / 'emoji, etc.' has been published by the Éditions Basic Bruegel Editions.
Date : Mars / March 2022
Genre : Poésie / Poetry
Français / English
Date: Mai / May 2022
Genre: Vidéopoésie/Videopoetry
Français/English
Archives
Shapes